Medical Transport Division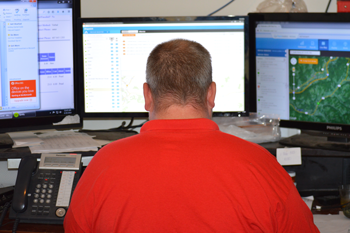 A&D Transport Services, Inc. now provides medical transport in Broome, Cayuga, Chenango, Cortland, Delaware, Fulton, Greene, Herkimer, Madison, Montgomery, Oneida, Oswego, Otsego, Schoharie, Tioga and Tompkins Counties. We have been a reliable source for many patients, as well as providers. We have developed a business model that provides specialized service catering specifically to medical transport passenger eligible for this service. We do not simply provide the transport, we build relationships with all involved and will not let you down.
Call the Medical Answering Service (MAS) now to schedule your trip with A&D Transport Services, Inc.
1-866-333-1030
Be sure to select A&D Transport Services, Inc. as the service

Non-Emergency Medical Transportation
There is a huge gap between medical emergencies and routine taxi rides. We fill this void with trained professionals who care for your medical transport needs with dignity and respect. We are fully prepared for wheel chairs and gurneys… nothing catches us off guard. If the patient is groggy from pain medications and has a difficult time staying alert – they are safe with our team. We run full background checks on our staff so you can feel safe.
A&D Transport Services, Inc. is a leader in providing non-emergency medical transportation. We have a fleet of medical transport vehicles constantly servicing Central NY and the Southern Tier. We provide transportation for all of the major nursing homes, hospitals and assisted living facilities in the following counties: Broome, Cayuga, Chenango, Cortland, Delaware, Fulton, Greene, Herkimer, Madison, Montgomery, Oneida, Oswego, Otsego, Schoharie, Tioga and Tompkins.
Wheelchair Transport
ADA approved vans, motorized lifts, wheel chair ramps – strong, trained staff. We are focusing a lot of our staff training and equipment purchases on serving our clients who need wheel chairs. We can meet most transportation needs of business men and women, corporations, non-profits, government agencies, churches, synagogues, medical facilities, those who are wheel-chair bound and patients in dialysis, chemotherapy, radiation, surgery patients, I.V. and infusion treatments etc.
Seniors
many of our clients are senior citizens who call us to be extra safe. Is your night vision decreasing? Is it hard to ride on the highways in traffic? We are only a phone call away. Please don't feel any need to explain why you are not driving yourself to or from your medical care. We admire all of our clients for being humble to reach out. Everyone is grateful that you are taking this extra measure of safety. It's like the best investment you can make – for the safety of you and others on the road. Way too many people are out driving when they shouldn't be – their hearing is gone, their vision in going bad – they feel dizzy and exhausted. Many people drive when they are on muscle relaxers and pain pills. We applaud you for your wise decision to night drive yourself.
Patients in Wheelchairs
Try our vans with motorized lifts - we are the local experts for transporting your loved one who is in a wheel chair. We understand safety issues - up and down curbs, getting the patient into the van comfortable etc. Our team can move your loved one safely from their starting point into our specially-equipped medical transport vehicle. No need to worry - we have encountered every kind of stair way and even tall buildings with no elevators. If your loved one is in pain and is worried about being moved, we will help them to relax so they can put their trust in our experienced medical transport team.
Patients needing help with stairs
This is one of the number one concerns our callers have. Relax and watch us in action. We will treat your loved one with kid gloves. We know that many patients are wiped out and feel dizzy after their medical procedures. Many fear that they would fall if they tried to walk on their own. There has not been a stair way or stair well that has stopped A&D Transport Services, Inc. yet.
The post-surgery drive home
Whether you are on your way to a medical procedure or on your way home from a medical procedure - we are here for you. Our clients have been through every possible type of surgery - plastic surgery, cancer biopsies, hip and knee replacements - we have done it all. We are you go-to company for medical transportation after your operation.
The post-surgery drive to your rehab center
Many of our clients are looking for a safe way to get home from rehab centers - after heart surgery, knee and hip replacements, etc. We are a team of gentle and experienced people who want to treat you like we would treat our own family members. You do not want to burn out friends and family - many of our clients have had to go to their doctor over and over for chemotherapy and other auto immune treatment infusions. After a while, this can create stress on the patient who feels guilty. Rather than make your family and friends resent you, call us to take the pressure off your shoulders so you can focus on being there for your family member in the way that matters most.
Dialysis Transportation
We know that you may feel nauseated and week after your dialysis appointment. Many of our dialysis customers feel exhausted and many of them feel dizzy from a drop in blood pressure. At times Medicare will pay for our transportation services for your dialysis treatments only if your doctor prescribes it because other forms of transport are not medically advisable. Please ask your physician if he or she will prescribe a non-emergency medical transportation solution. Lack of transportation can be a serious challenge for people on in-center hemodialysis.
Transporation to and from
Dialysis

Chemotherapy and Radiation treatments

IV and Infusion Treatments

Surgery
Hospital Discharge
A hospital stay along with any necessary treatment could be very traumatic and stressful. It is our mission to be there ready for you to help you get on your way back home to where you can be comfortable and heal accordingly.
We service
Nursing Homes

Assisted Living Homes

Rehabilitation Centers

Power wheelchair Transportation
Look for us in your county soon!
---